Smart One Oxi
App-based personal Spirometer (PEF,FEV1) with embedded Oximeter (SpO2, Pulse)
Everything in a single instrument: it measures two Oximetry parameters (%SpO2 and Heart Rate) and two spirometry parameters (PEF and FEV1). It includes the innovative reflectance pulse-oximetry sensor (Touch).
Suitable for patients ages 5-93 years old.
It connects to Smartphone or Tablet via Bluetooth. Through the simple and intuitive MIR Smart One App, test results can be viewed in real time saved and shared.
innovative TOUCH sensor + MIR turbine
Introducing Smart one oxi
The MIR Smart One Oxi is a spirometer/oximeter combination device using the patented reusable turbine flow sensor technology together with the new and innovative "touch" sensor.  This single patient device connects to any Smartphone or Tablet, with the ability to monitor your lung health from anywhere with the same reliability and accuracy as any device in a professional setting.
The Smart One Oxi is the first combination device to have a spirometer with an integrated "touch" oximetry sensor. A single device that allows you to monitor both Peak Flow (PEF) and FEV1, while also providing you with blood oxygen saturation (SpO2) and Heart Rate (BPM) levels.
It connects to your Smartphone or Tablet via Bluetooth through the free MIR Smart One App, allowing you to view test results in real time, save them, and share them with your health provider in less than five minutes. The MIR Smart One App is available for iOS and Android wherever apps can be purchased.
It is easy to use and is ready when you need it. Also, the MIR Smart One Oxi can be deducted from insurance, making it highly affordable.
TO WHOM IT MAY CONCERN
The SMART ONE OXI is particularly suitable for:
People with asthma.
People with respiratory problems (such as COPD, cystic fibrosis).
People with conditions that affect blood oxygen saturation.
People on oxygen therapy and using ventilation supports.
People taking medications that affect Breathing or Oxygen Saturation.
Sportsmen and athletes who want to monitor their lung capacity.
Specifications
Dimensions: 10.9 x 2.1 x 4.9 cm
Weight: 380 grams
Producer: MIR srl - Medical International Research
ASIN: B08BTSFNQ8
Batteries: 2 AAA batteries required. (included)
Buy together with the Reusable Turbine and Mouthpiece
WHY CHOOSE SMART ONE OXI
THE MIR SMART ONE APP
The MIR Smart One app allows you to monitor your lung health independently. The APP is available in 20 languages. Instantly view results after blowing.
Keep a diary directly on your Smartphone, note your symptoms and additional notes for each test. See the trend of your results to get an accurate picture of the condition of your lungs over time. Share your test results in real time with anyone you want via e-Mail, WhatsApp, SMS, etc.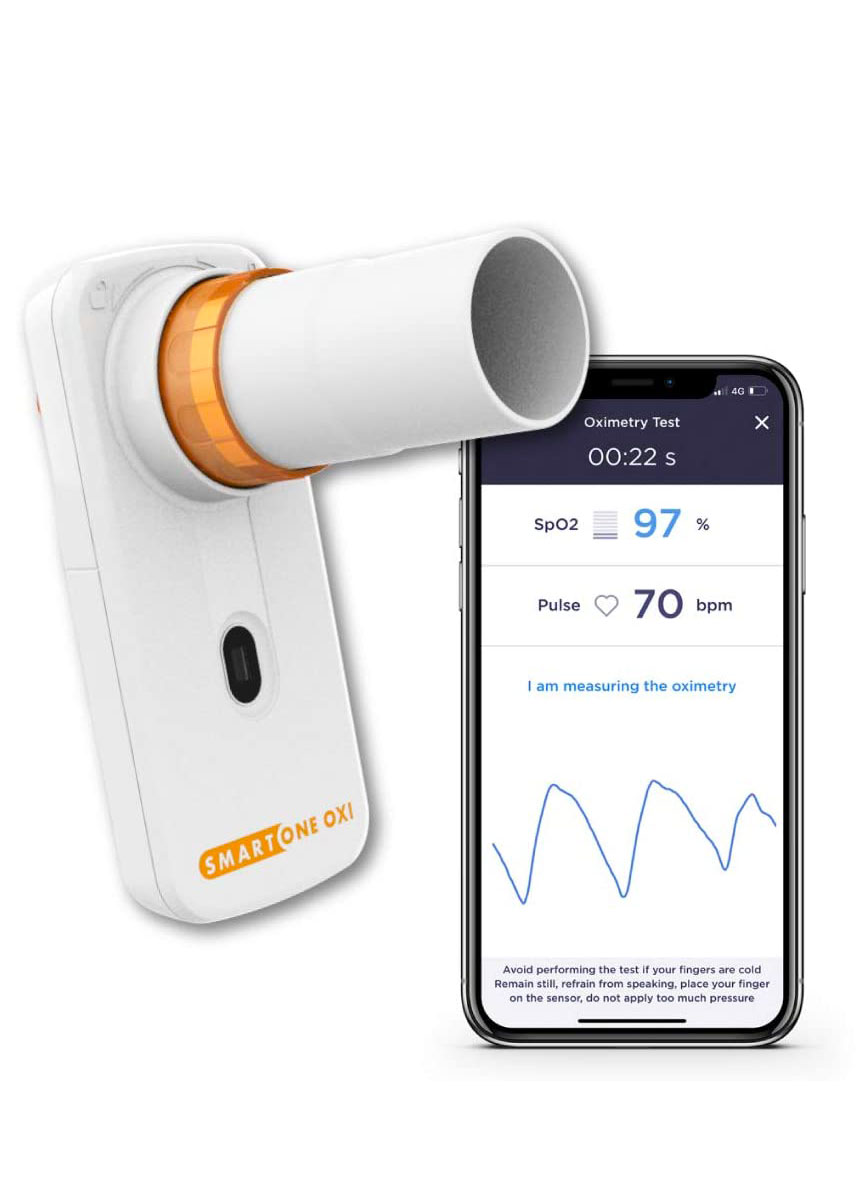 Ready to use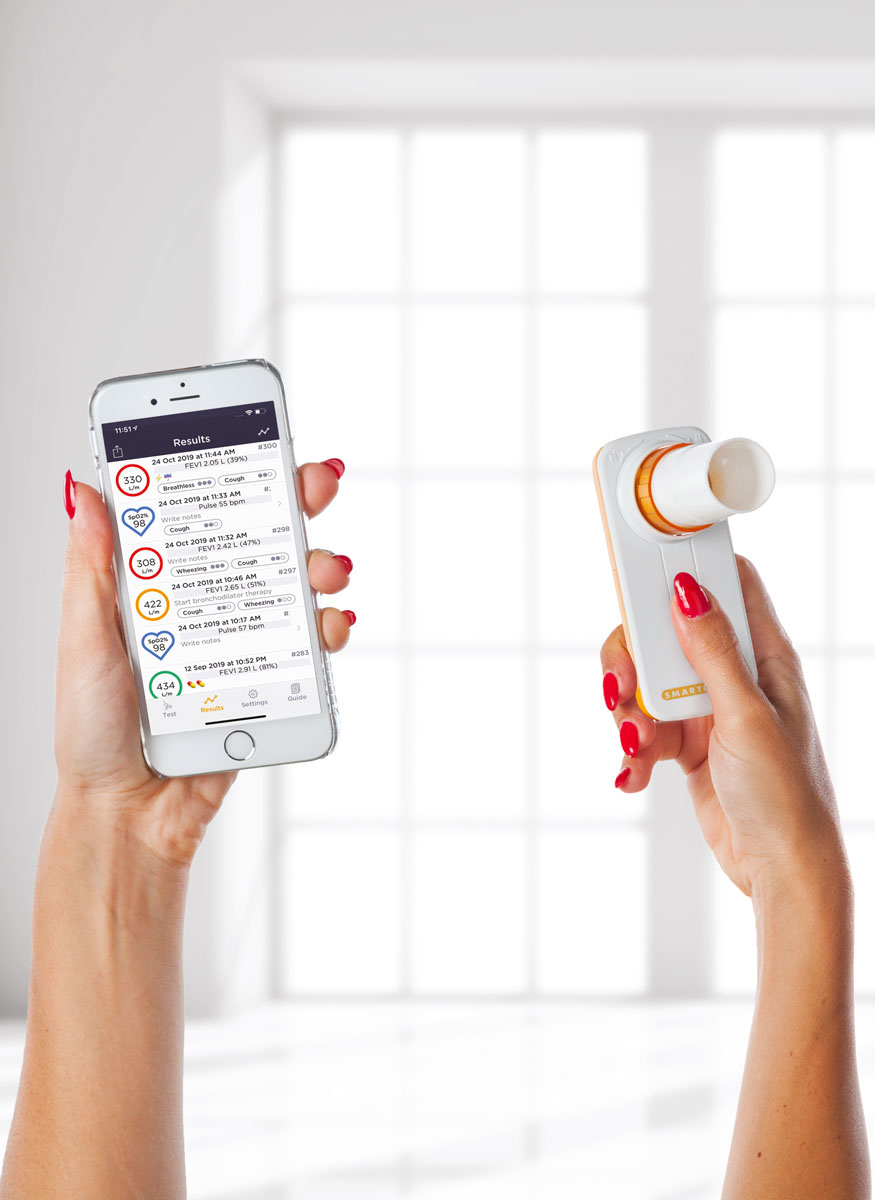 Save and share your results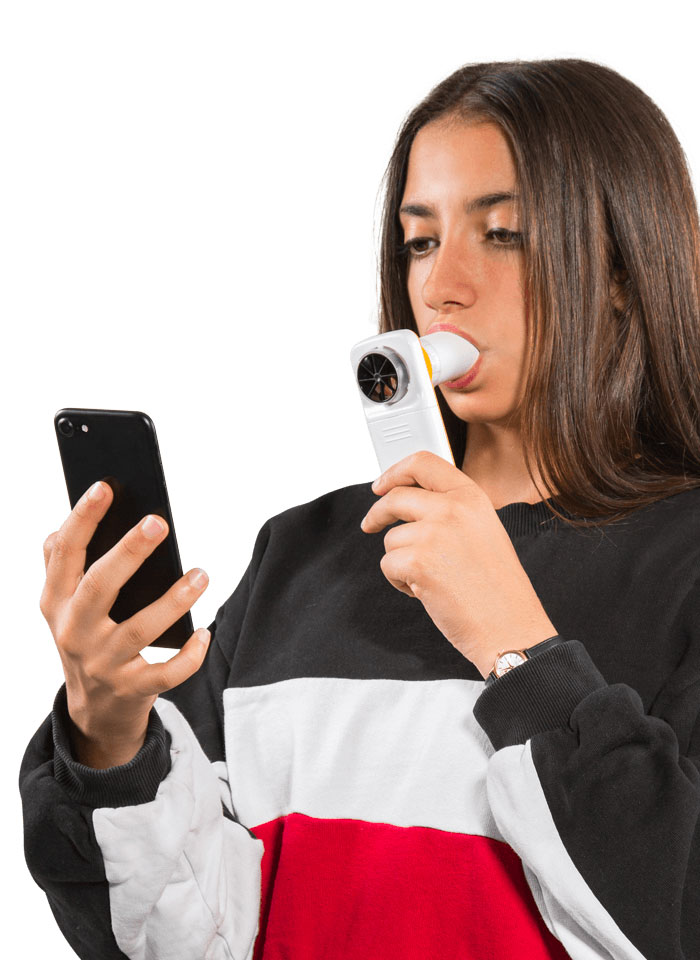 COMPLIANCE WITH ATS/ERS 2019 STANDARD
"I have a very serious lung disease and I need to know how well or bad my lungs are with regards to receiving and expelling oygen!"
"Have been experiencing shortness of breath and breathing issues for the first time in my life, as a Long Covid patient. I have been debating going back to the pulmonologist, but the results of my FEV1 on this handy spirometer confirm that I need to do so. It works PERFECTLY. It set up in less than a minute. You could pull this thing out of the box, download the app, and give your first reading in less than a minute if you wanted to. [...] Amazing product worth more than I paid for it! "
"This product records results to your phone date, time, heart rate etc. Especially useful for showing to your Doctor. It is accurate as a recent trip to A&E confirmed this to be the case."
"Very accurate. I tested it against 2 mechanical peak flow meters. Connects easily with your iphone and gives you a lot of data and metrics that you can save and email. This is professional medical equipment that works well. When you blow into the tube your breath spins a propeller. Optical sensors in the unit measure the rpm and duration to determine you measurements. Very ingenious!"